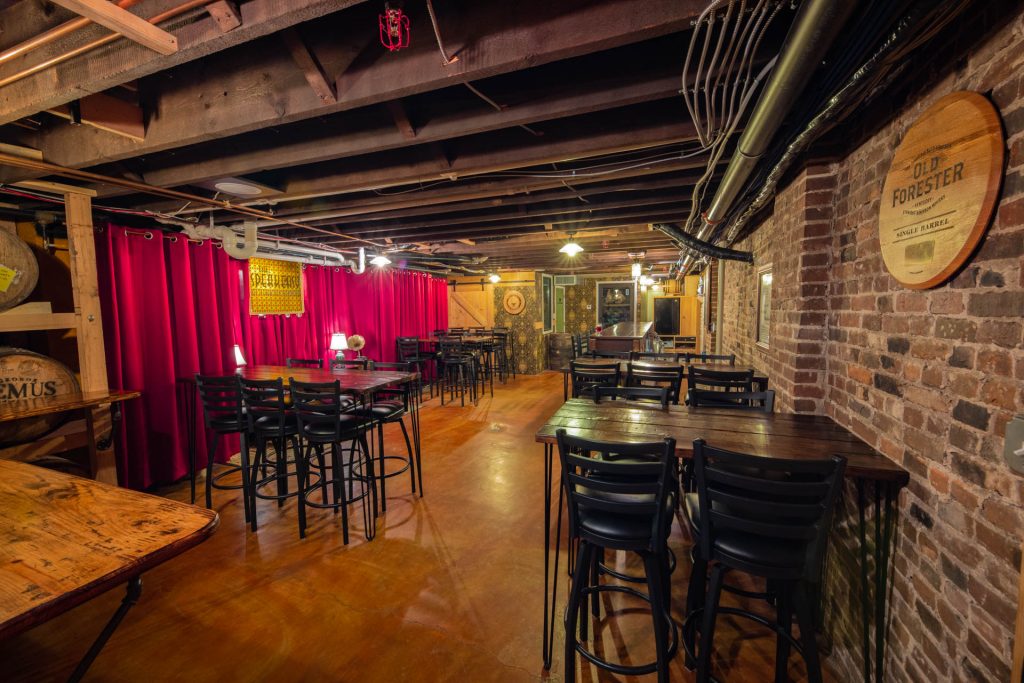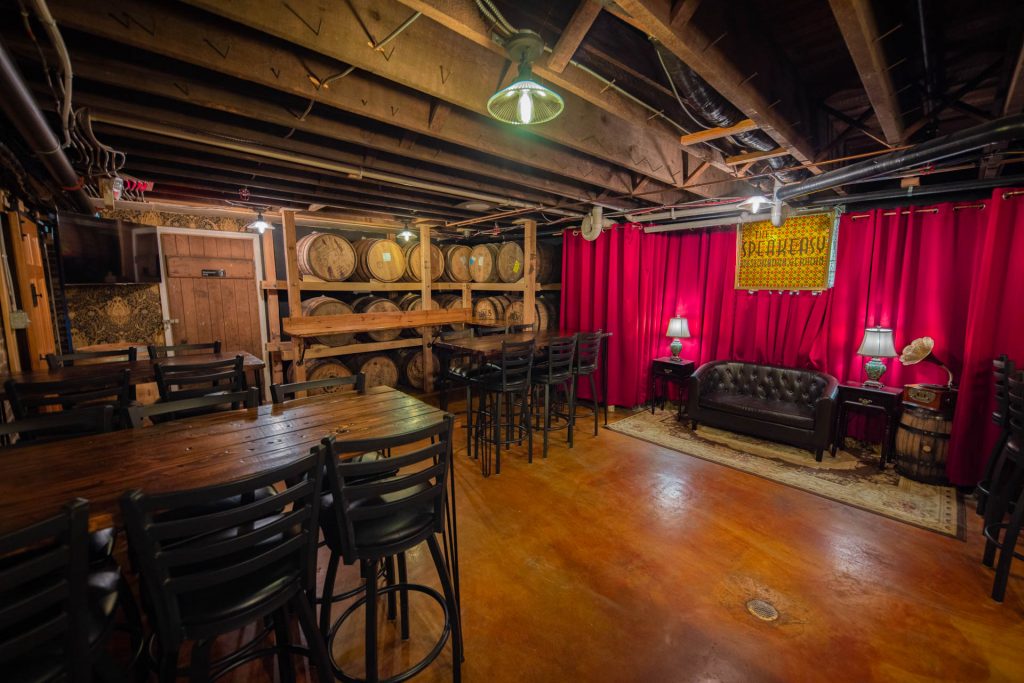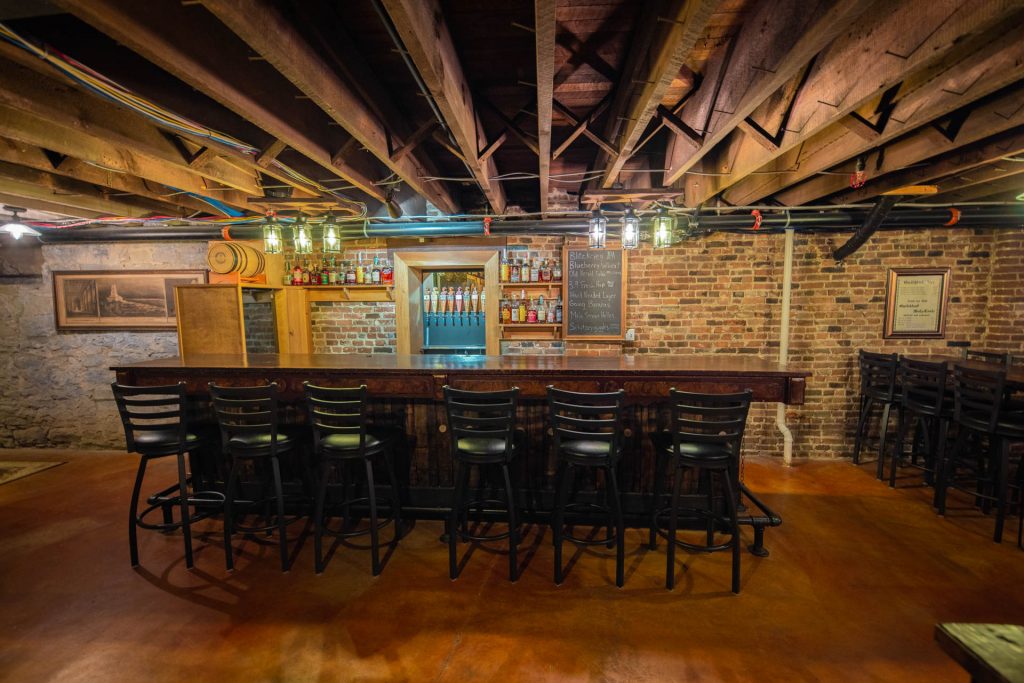 About The Speakeasy (in the basement at Stubborn German Brewing)
The Speakeasy comfortably holds up to 30-35 people. We've recently remodeled, and it has a 'speakeasy' theme to it. We've hosted adult birthday parties, anniversary parties, class reunions, work and friend get-togethers, retirement parties, college graduations, customer appreciation events, even a few weddings! Please note that we do not host children birthday parties, high school graduation parties, baby showers, or wedding showers.
Cost: The Speakeasy costs $150.00 to rent and the reservation is good for up to 5 hours.
We have two options for parties:
Option 1 (with bartender): If you're expecting 30-35 people, you can ask to have a bartender down there to serve your guests. If so, there will be a $400 bar minimum (this does not include room rental fee or gratuity). Gratuity is not included in the bar tab and your bartender will work very hard to make sure everyone has a great time! Please note that due to staffing, I'm not always able to have an extra bartender work the basement party. If I'm unable to staff a private bartender for you, I will be sure to give you notice. We will have 8 beers on tap, mixed drinks, wine, bourbon, and soda. If you have a preference on a few beers you'd like on tap, please let me know the week prior to your party, and we will do our best to make that happen.
Option 2 (without bartender): If you're expecting less than 30 people, I would recommend not having a dedicated bartender, so there is no bar minimum that needs to be met. Please encourage guests to grab drinks at the main level bar before heading downstairs. As our bartenders have time, they will come and check on your group and get drinks, but please don't hesitate to come to the bar for service. Please remember to tip the bartenders on the main level. They will be the one setting up and cleaning up after the party (which is a lot of work) – and will work very hard to make sure you can relax and have a good time!
Tabs: If you want to have one tab for all of the drinks, that is acceptable, or we can do "open bar" up until a certain time or dollar amount. Or if each guest has their own tab, that is acceptable as well – it's really however you want to structure it. A credit/debit card will be held on file that night for open tabs. Please note that no outside beverages are permitted to be brought in, with the exception of coffee. Alcohol, and soda/tea/lemonade will need to be purchased at the brewery.
Food: You're welcome to bring food from home or get food catered in. We do have a ledge that food can be set on, and there are electrical outlets above the ledge so you may plug crockpots or roasters in. Please remember to bring everything you need to serve the food (plates, napkins, silverware, serving dishes and utensils and leftover containers). All food items (including chafing dishes) need to be taken with you at the end of the event. If you're looking for catering options, please let us know and we can help recommend some of the great restaurants in town. Our walk-in cooler is located next to The Cellar, and you're welcome to use that if you want to keep food or leftovers cold.
Decor: You're welcome to decorate how you wish (balloons, crate paper, table runners, banners, etc.). Please note we do not allow confetti or glitter, or balloons that have confetti or glitter inside of them. We do not allow nails/tacks to be put in the walls or ceiling. Decorations can be hung from the ceiling on already existing nails.
Music: We do have an old time music/record player in The Cellar. You can simply bluetooth your device (phone or ipad) to the player and play your own music. It does play records if you want to bring those in as well.

Trash: Please do not leave excessive trash/food/leftover boxes at the brewery, we do not have a dumpster and we are limited on "trash" space. Please take cake/gift boxes, serving containers, etc. with you as you leave.
Password: We have an official Speakeasy viewing door for your guests to use to enter your party. Please add to the fun by creating a unique password and share it with your guests prior to the party. In order to get into your party, they have to knock and then say the password (you are the one letting them into the party). This door cannot be locked and you can not lock people in (or out) of your party. Also, there is an emergency exit located at the back of the Speakeasy area, near the restroom, so there are two exits available if an emergency would arise.
Misc: Supervised children are welcome! Although Stubborn German Brewing Company is handicap accessible; the Speakeasy is not handicap accessible at this time. There are certain rooms marked as "Employees Only" and for your safety, that needs to be adhered to.
To check availability, or for more info, please contact Tammy at stubborngermanbrewing@gmail.com. Thank you!