Follow Along on the Stubborn German Podcast!
Click Here: https://stubborngermanpodcast.libsyn.com/
Willkommen!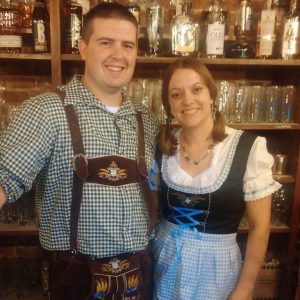 Chris and Tammy Rahn are the owners of Stubborn German Brewing Company and lifelong residents of Waterloo. Chris has been homebrewing since 2005 and his hobby quickly became a passion. He has won numerous awards for his homebrew and got involved in the St. Louis Brews Homebrew Club. Through the Brews, he took the BJCP exam (Beer Judge Certification Program) and scored at a National level. In 2015, Chris graduated from the American Brewer's Guild in Vermont's Brewery in Planning program. Chris and Tammy have been planning and working on Stubborn German Brewing Company since 2013. They took over the main floor and basement of the Masonic Lodge in April, 2015 and with the help of Tammy's dad, Don Landgraf, spent one year remodeling and bringing the building up to date. Chris and Tammy were high-school sweethearts and have two young boys. The Rahn's are very active in the community and love to see Downtown Waterloo thriving!
Our Building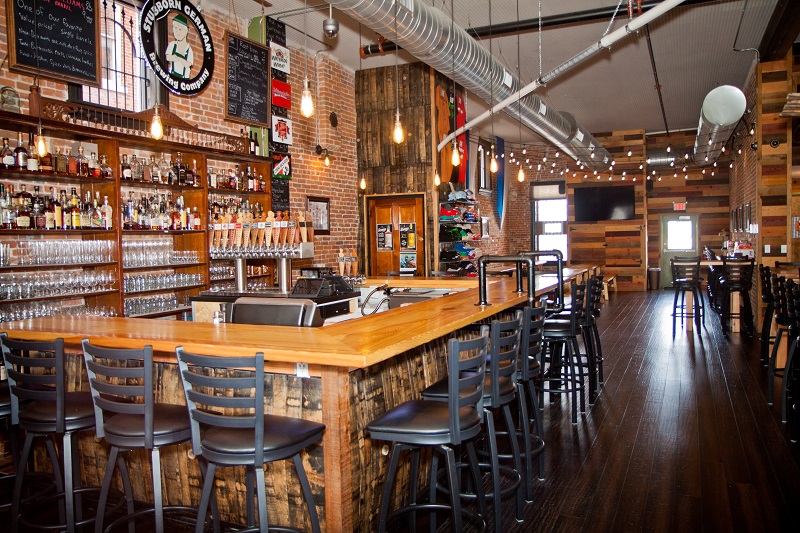 The brewery occupies the first floor and basement of the Masonic Lodge in Waterloo. The Masons have a dining hall on the second floor, and their meeting room is on the third floor.
The building was built in 1885 by Joseph Pluth. He owned Pluth's dry goods store. They sold bailing twine, salt, pecans, and clothing. The building was purchased by the Masonic Lodge in 1921. The Mason's purchased the building for $11,000 and added the third floor in 1922. After the Mason's purchased it, the first floor was leased to Bersche Jewelry and Bode's Men's Wear store, and to a tailor, Bodenbach. It then became Reime Jewelers for 40 years.
The remodel started in April, 2015 and took approximately one year. From pouring concrete in what was a dirt basement floor, to upgrading the electric, HVAC, water, gas, etc., everything was brought up to code and made into a usable space. Some items to note:
Barrel staves (for the bar and the light fixtures) were bought from a cooperage company in Kentucky, and were used in whiskey barrels.
The fence separating the brewery from the bar was made over 30 years ago by Dave Miller, and was previously at Dan and Neat's Bait Shop on Park Street in Waterloo.
The wood on the walls is from 180 year old yellow pine trees and was purchased from the sawmill in East Perry, MO, planed into the size needed, then stained in 7 different colors.
The bar and table tops were made by Don Landgraf (Tammy's dad) and Steve McFarland specifically for this brewery.
The back bar shelf was one of the original display shelves from Pluth's Store.